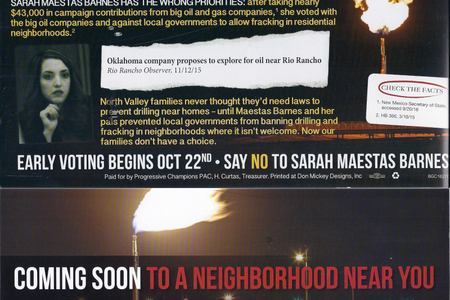 Messenger: Progressive Champions PAC
Candidate: Sarah Maestas Barnes
Contest: House District 15
Date delivered: Oct. 12, 2016
Message type: mailer
Message tone: negative
About the message: This mailer from a Democratic super PAC criticizes GOP Rep. Sarah Maestas Barnes for voting for a bill allowing fracking in suburban neighborhoods. br> The flier incorrectly identifies the start of early voting as Oct. 22. Early voting began Oct. 11 at county clerks' offices and expanded early voting at other locations begins Oct. 22.
About the messenger: Progressive Champions is a new super PAC, which means it can take unlimited money but can't coordinate with candidates or donate to their campaigns. But the group can make independent expenditures supporting or attacking candidates via mailers like this one.
The messenger's money: The group's primary funding thus far comes from Patriot Majority and ProgressNow New Mexico.
Click here for more details on Progressive Champions PAC's money