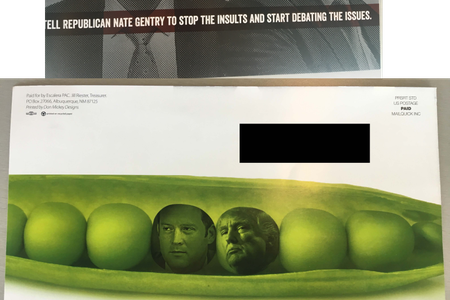 Messenger: Escelara PAC
Candidate: Nate Gentry
Contest: House District 30
Date delivered: Oct. 24, 2016
Message type: mailer
Message tone: negative
About the message: This mailer attempts to link Republican House Majority Leader Nate Gentry to GOP presidential candidate Donald Trump, and accuses him of insulting his female opponent, Democrat Natalie Figueroa. An illustration portrays Trump and Gentry as two peas in a pod.
About the messenger: Escelara PAC is a relatively new political action committee that raised only about $17,000 through early October and donated to a few Democratic House candidates.
The messenger's money: Thus far, Escalera PAC's money comes mostly from other Democratic PACs and labor unions.