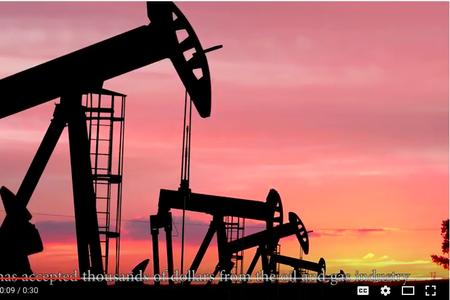 Messenger: CVNM Verde Voters
Candidate: Christina Hall
Contest: House District 24
Date delivered: Oct. 23, 2016
Message type: online ad
Message tone: negative
About the message: This is one of two ads from Conservation Voters New Mexico Verde Voters, one 30 seconds, and another 15 seconds, criticizing Republican House candidate Christina Hall for taking money from oil and gas interests. The ads are running online, on Facebook and elsewhere. Hall faces former Rep. Elizabeth Thomson, a Democrat, for the open seat in Albuquerque.
About the messenger: Verde Voters PAC is affiliated with Conservation Voters New Mexico, a nonprofit, and supports candidates endorsed by Conservation Voters New Mexico Action Fund. CVNM is the state affiliate of the League of Conservation Voters.
The messenger's money: Most of the group's money comes from the national League of Conservation Voters, a 501(c)(4) nonprofit, and Conservation Voters New Mexico, the nonprofit affiliated with the PAC. ProgressNow New Mexico is also a large donor. Such "social welfare" groups may spend up to half their money on politics, and they aren't required to reveal their donors.