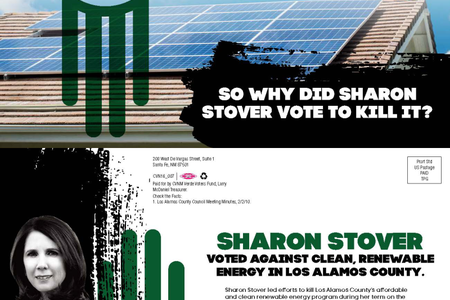 Messenger: CVNM Verde Voters
Candidate: Sharon Stover
Contest: House District 43
Date delivered: Oct. 26, 2016
Message type: mailer
Message tone: negative
About the message: This mailer from Conservation Voters New Mexico's Verde Voters Fund accuses Los Alamos County Clerk and former county commissioner Sharon Stover of voting against a renewable energy program when she served on the county commission. Stover responded to a League of Women Voters survey question on whether the Legislature should encourage renewable energy: "NM needs an 'all of the above' energy strategy. The oil and gas industry remains critical to our state's economy. Renewable and nuclear power are resources for our future. Research at our national labs can be applied to private sector development to build a 21st-century energy infrastructure resulting in job and wealth creation. The state can help promote collaboration between the labs and private industry."
About the messenger: Verde Voters PAC is affiliated with Conservation Voters New Mexico, a nonprofit, and supports candidates endorsed by Conservation Voters New Mexico Action Fund. CVNM is the state affiliate of the League of Conservation Voters.
The messenger's money: Most of the group's money comes from the national League of Conservation Voters, a 501(c)(4) nonprofit, and Conservation Voters New Mexico, the nonprofit affiliated with the PAC. ProgressNow New Mexico is also a large donor. Such "social welfare" groups may spend up to half their money on politics, and they aren't required to reveal their donors.