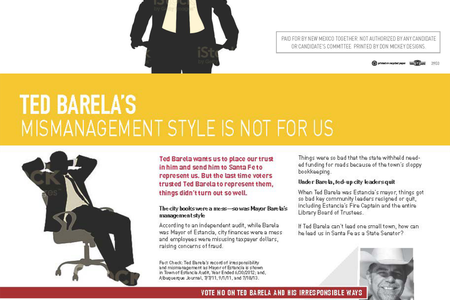 Messenger: New Mexico Together
Candidate: Ted Barela
Contest: Senate District 39
Date delivered: Oct. 26, 2016
Message type: mailer
Message tone: negative
About the message: This New Mexico Together mailer accuses GOP Sen. Ted Barela of financial mismanagement when he was mayor of Estancia. An audit (scroll to the end of the PDF) of the 2012 fiscal year cites several issues, including deficits in some funds, incorrect per diem and expense payments, improper tracking of vehicle fuel purchases, and a deficiency in internal controls. The audit does now, however, attribute these issues to any single individual. Barela is being challenged by Democrat Liz Stefanics, a Santa Fe County Commissioner.
About the messenger: New Mexico Together is a super PAC, taking unlimited donations to pay for independent spending, not coordinated with candidates or political parties. Such spending doesn't have to be reported in detail under New Mexico's campaign finance laws.
The messenger's money: New Mexico Together is primarily funded by teachers unions.