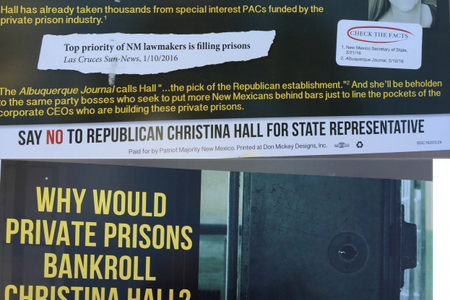 Messenger: Patriot Majority New Mexico
Candidate: Christina Hall
Contest: House District 24
Date delivered: Oct. 27, 2016
Message type: mailer
Message tone: negative
About the message: This mailer from super PAC Patriot Majority New Mexico accuses GOP House candidate Christina Hall of taking campaign money from PACs funded by private prison interests. But the mailer doesn't offer any specifics on what PACs it refers to. Hall is running against Democrat Elizabeth Thomson in this Albuquerque district.
About the messenger: Patriot Majority New Mexico is a Washington, D.C., based PAC affiliated with the national Patriot Majority organization, a progressive group. The group is a super PAC that takes unlimited contributions to make independent expenditures, which aren't supposed to be coordinated with candidates or political parties.
The messenger's money: Patriot Majority gets most of its money from unions, including those for teachers and public employees.
Click here for more details on Patriot Majority New Mexico's money