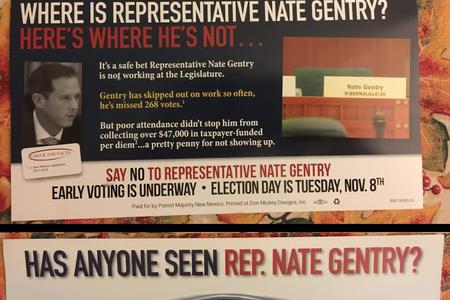 Messenger: Patriot Majority New Mexico
Candidate: Nate Gentry
Contest: House District 30
Date delivered: Oct. 27, 2016
Message type: mailer
Message tone: negative
About the message: This mailer from Patriot Majority New Mexico accuses House Majority Leader Nate Gentry of missing 268 votes from 2011 through 2016, or six years of regular sessions and three special sessions. It's unclear if the tally includes committee votes as well as floor votes, though a committee room chair is pictured. Lawmakers make hundreds of votes during each session.
About the messenger: Patriot Majority New Mexico is a super PAC that takes unlimited contributions and makes independent expenditures that aren's supposed to be coordinated with candidates or political parties. The group is an off-shoot of a national super PAC.
The messenger's money: In New Mexico, the group has received money from various labor unions and, most recently, from Everytown for Gun Safety, a group that advocates for stronger gun laws.
Click here for more details on Patriot Majority New Mexico's money