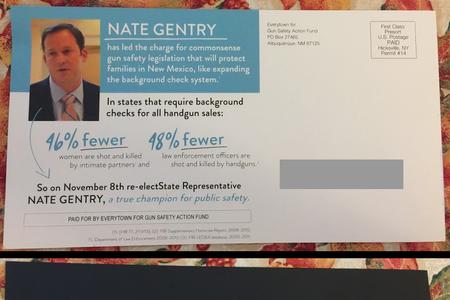 Messenger: Everytown for Gun Safety
Candidate: Nate Gentry
Contest: House District 30
Date delivered: Oct. 31, 2016
Message type: mailer
Message tone: positive
About the message: This mailer from Everytown for Gun Safety endorses GOP House Majority Leader Nate Gentry, noting that he's led an effort to expand gun background checks in New Mexico.
About the messenger: Everytown for Gun Safety is a "social welfare" nonprofit that may spend a portion of its proceeds on political action. The group is an umbrella for Moms Demand Action for Gun Sense in America and Mayors Against Illegal Guns. Former New York City Mayor Michael Bloomberg is one of the driving forces behind the group, as is billionaire Warren Buffett.
The messenger's money: The group is funded by a variety of foundations.