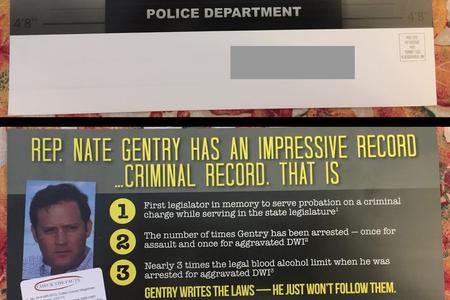 Messenger: Patriot Majority New Mexico
Candidate: Nate Gentry
Contest: House District 30
Date delivered: Oct. 31, 2016
Message type: mailer
Message tone: negative
About the message: This is the second piece from Patriot Majority New Mexico noting that GOP House Majority Leader Nate Gentry has been charged with DWI, among other things. But Gentry hasn't been convicted of any crimes. Here's what he told the Albuquerque Journal: "Sixteen years ago, I was involved in an altercation in Washington, D.C. That case was dismissed. Fourteen years ago, I was charged with DWI and related traffic offenses in New Mexico. All charges were dismissed. Later that year, I was detained as a student in Guanajuato, Mexico, for having a small amount of marijuana. I was never charged with a crime. In 2012, I was elk hunting with a valid tag for an anterless elk and shot an elk with barely visible antlers. I reported the incident to authorities and was issued a citation, which was later dismissed. Over the years, I have received driving and traffic citations and pled guilty for missing a court appearance."
About the messenger: Patriot Majority New Mexico is a super PAC that takes unlimited contributions and makes independent expenditures that aren's supposed to be coordinated with candidates or political parties. The group is an off-shoot of a national super PAC.
The messenger's money: In New Mexico, the group has received money from various labor unions and, most recently, from Everytown for Gun Safety, a group that advocates for stronger gun laws.
Click here for more details on Patriot Majority New Mexico's money