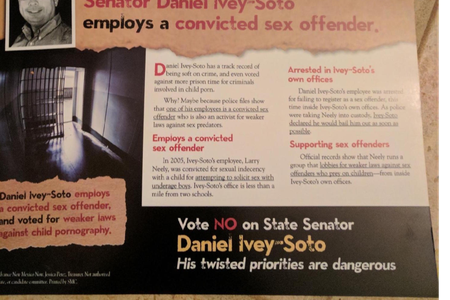 Messenger: Advance New Mexico Now
Candidate: Daniel Ivey-Soto
Contest: Senate District 15
Date delivered: Nov. 4, 2016
Message type: mailer
Message tone: negative
About the message: This Advance New Mexico Now mailer claims that Democratic Sen. Daniel Ivey-Soto employs a convicted sex offender, a charge that is untrue. It's a variation that's been made by Republican challenger Eric Burton and the state Republican Party. A former employee of Ivey-Soto's law firm was charged by the state of Arkansas with telephoning teens in that state and conducting conversations about sex. Larry Neely left the firm, pleaded guilty and returned to New Mexico to serve probation. But he successfully challenged his listing as a sex offender in New Mexico, saying that in this state the communications would have been considered harassment, not a sex offense because he didn't entice anyone to have sex, exploit a child etc. The courts sided with Neely, and ordered him removed from the list of sex offenders. Neely does operate a group aimed at reforming sex offender laws in the same office building as Ivey-Soto's - the building is owned by a third party, and Neely no longer works for Ivey-Soto nor is he affiliated with the senator's law firm.
About the messenger: Advance New Mexico Now is a state-level super PAC that takes unlimited donations and makes independent expenditures, mostly in legislative races. Advance employs the firm owned by Jay McCleskey, Gov. Susana Martinez's top political adviser.
The messenger's money: Western Refining Chairman Paul Foster, of El Paso, gave $150,000. Burnett Oil Chairwoman Anne Marion, of Texas, ETC Capital, a Michigan investment firm, and Devon Energy, of Oklahoma each gave $100,000.
Click here for more details on Advance New Mexico Now's money