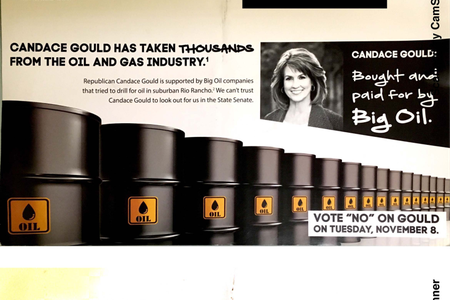 Messenger: CVNM Verde Voters
Candidate: Candace Gould
Contest: Senate District 10
Date delivered: Oct. 28, 2016
Message type: mailer
Message tone: negative
About the message: This mailer from Verde Voters PAC says Republican Candace Gould has received thousands of dollars from oil and gas interests, which is accurate. Gould and her Democratic opponent David Simon are competing for the Senate District 10 seat to replace outgoing state Sen. John Ryan, a Republican.
About the messenger: Verde Voters PAC is affiliated with Conservation Voters New Mexico, a nonprofit, and supports candidates endorsed by Conservation Voters New Mexico Action Fund. CVNM is the state affiliate of the League of Conservation Voters.
The messenger's money: Most of the group's money comes from the national League of Conservation Voters, a 501(c)(4) nonprofit, and Conservation Voters New Mexico, the nonprofit affiliated with the PAC. ProgressNow New Mexico is also a large donor. Such "social welfare" groups may spend up to half their money on politics, and they aren't required to reveal their donors.