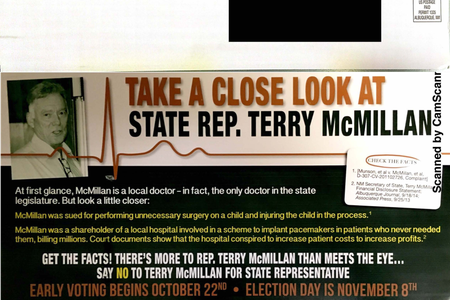 Messenger: Patriot Majority New Mexico
Candidate: Terry McMillan
Contest: House District 37
Date delivered: Oct. 17, 2016
Message type: mailer
Message tone: negative
About the message: This is one of multiple mailers from super PAC Patriot Majority New Mexico making numerous allegations against GOP Rep. Terry McMillan, who is also a doctor. The claims of a Medicaid fraud investigation and patient lawsuit are outlined on the group's website. McMillan is being challenged by Democrat Joanne Ferrary.
About the messenger: Patriot Majority New Mexico is a super PAC that takes unlimited contributions and makes independent expenditures that aren's supposed to be coordinated with candidates or political parties. The group is an off-shoot of a national super PAC.
The messenger's money: In New Mexico, the group has received money from various labor unions and, most recently, from Everytown for Gun Safety, a group that advocates for stronger gun laws.
Click here for more details on Patriot Majority New Mexico's money