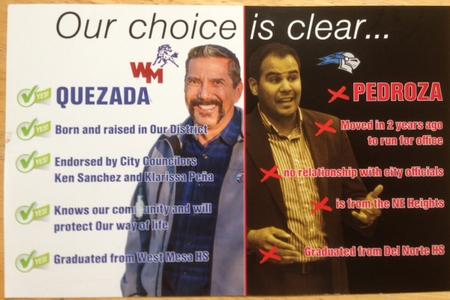 Messenger: New Mexicans for New Mexico
Candidate: Adrian Pedroza
Contest: Bernalillo County Commission District 2
Date delivered: June 3, 2016
Message type: mailer
Message tone: contrast
About the message: This mailer opposed Adrian Pedroza, who lost a three-way race for Bernalillio County Commission by 338 votes. It was one of several from New Mexicans for New Mexico, a super PAC supporting the Santolina development in west Bernalillo County, which Pedroza opposed. Steven Michael Quezada won the primary.
About the messenger: New Mexicans for New Mexico was a super political action committee involved in the Bernalillio County Commission District 2 race, funded primarily by developers of the proposed Santolina development. The committee disbanded after the primary election.
The messenger's money: West Albuquerque Land Holdings of Arizona donated nearly $37,000 of the PAC's $64,500. One of its executives donated $5,000, and others connected with the development donated as well.