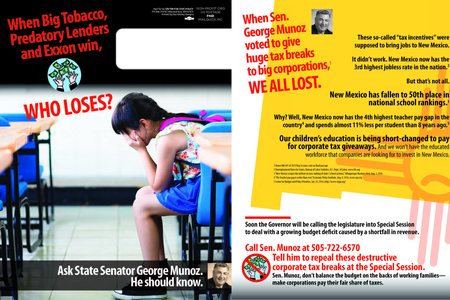 Messenger: Center for Civic Policy
Candidate: George Munoz
Contest: Senate District 4
Date delivered: Sept. 1, 2016
Message type: mailer
Message tone: negative
About the message: Democratic Sen. George Munoz is one of several lawmakers targeted by the Center for Civic Policy on corporate tax breaks. The center wants lawmakers to rescind such breaks if there's a special legislative session on the state budget.
About the messenger: Center for Civic Policy is a nonprofit group in Albuquerque that "strives to involve everyday New Mexicans in the public policy decisions that affect their lives with the goal of achieving positive and lasting change," according to their website.
The messenger's money: Center for Civic Policy received grants from a variety of other nonprofits, according to Citizen Audit. Past contributors include the Western Conservation Foundation, the Foundation to Promote Open Society and many others.