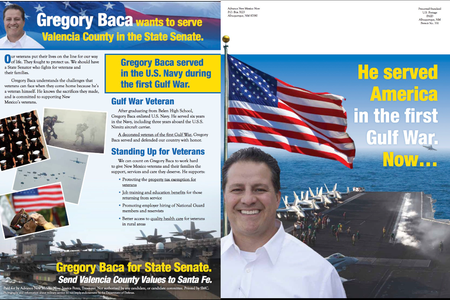 Messenger: Advance New Mexico Now
Candidate: Greg Baca
Contest: Senate District 29
Date delivered: Sept. 22, 2016
Message type: mailer
Message tone: positive
About the message: Republicans are targeting Senate Majority Leader Michael Sanchez, but in this mailer, GOP super PAC Advance New Mexico Now is sending a positive mailer about his challenger, Greg Baca, who is a Navy veteran. Baca is a Belen High School graduate, the mailer notes, but ProgressNow New Mexico recently published that Baca voted in Albuquerque for 11 years before registering in Valencia County last November.
About the messenger: Advance New Mexico Now is a state-level super PAC that takes unlimited donations and makes independent expenditures, mostly in legislative races. Advance employs the firm owned by Jay McCleskey, Gov. Susana Martinez's top political adviser.
The messenger's money: Western Refining Chairman Paul Foster, of El Paso, gave $150,000. Burnett Oil Chairwoman Anne Marion, of Texas, ETC Capital, a Michigan investment firm, and Devon Energy, of Oklahoma each gave $100,000.
Click here for more details on Advance New Mexico Now's money