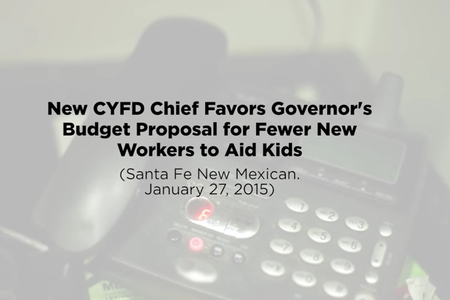 Messenger: Center for Civic Action
Candidate: Gov. Susana Martinez
Contest: none
Date delivered: Sept. 28, 2016
Message type: tv ad
Message tone: negative
About the message: This 30-second TV spot features a mother and child talking about the horrific murder of 10-year-old Victoria Martens. It says that Gov. Susana Martinez's administration failed to protect the child by not hiring enough child protection workers. Martinez is citing Victoria's death as she calls for the reinstatement of the death penalty for some murders at a special session Sept. 30. br> The ads are airing on several Albuquerque TV stations at a cost of about $35,000, according to the group.
About the messenger: Center for Civic Action is an Albuquerque-based nonprofit affiliated with the Center for Civic Policy.
The messenger's money: Center for Civic Action is organized as a 501(c)(4), a social welfare group that can spend up to half its money on political issues. The group has received grants for lobbying from NEO Philanthropy Action Fund, a social justice group, and See Foward Fund, which focuses on grassroots political power.