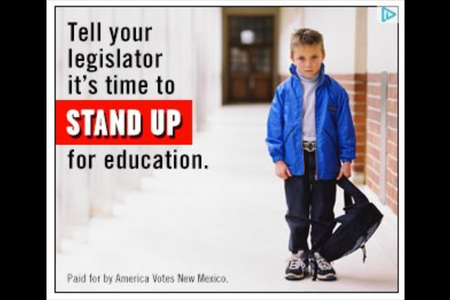 Messenger: America Votes
Candidate: None
Contest: several
Date delivered: Sept. 30, 2016
Message type: online ad
Message tone: informative
About the message: This digital ad is aimed at the special legislative session, encouraging lawmakers to avoid cutting education spending. But click through and you'll get the names of seven Republican lawmakers the group is targeting, all of them in highly contested seats in the November election: Sen. Lee Cotter, of Las Cruces; Sen. Ted Barela, of Estancia; Rep. Sarah Maestas Barnes, of Albuquerque; Rep. Paul Pacheco, of Albuquerque; Rep. Andy Nuñez, of Hatch; Rep. Terry McMillan, of Las Cruces; and Rep. John Zimmerman, of Las Cruces.
About the messenger: America Votes is a national organization formed in 2003 that works in 20 states, including New Mexico, to encourage people to turn out based on primarily Democratic issues.
The messenger's money: America Votes New Mexico once had a political action committee registered with the Secretary of State's office, but that PAC was closed in 2013. The national nonprofit group is is funded primarily by unions.