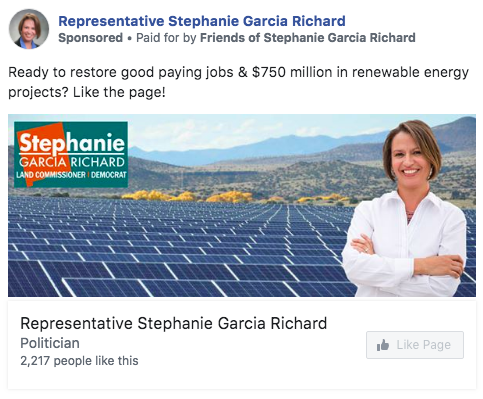 Messenger: Stephanie Garcia Richard
Candidate: Stephanie Garcia Richard
Contest: Commissioner of Public Lands
Affiliation: D
Date delivered: Sept. 12, 2018
Message type: online ad
Message tone: positive
About the message:
The purpose of this Facebook ad is to get more people to "like" Garcia Richard's Facebook page. In it, she mentions some of the issues she cares about.
The budget for this ad is $500-$999, and has a goal of reaching 100K-200K people. 27% of the audience reached have been men and women ages 25-34.
About the messenger:
Stephanie Garcia Richard currently serves as a member in the New Mexico House of Representatives, where she's been serving since 2012. She has worked many years in education. Currently, she is a curriculum coordinator for Pojoaque schools and is the Chair of the House Education Committee.
As of Sept. 10, Garcia Richard had raised $232,700. She had spent $235,973 and had no cash on hand. The next filing date is Oct. 15.
Garcia's top donor is the National Education Foundation with $11,00. Other top donors are AFT New Mexico Solidarity Fund, Secretary of the NM Public Education Department Karyl Ann Armbruster, and lobbyist Sally Bingham, each at $5,500.