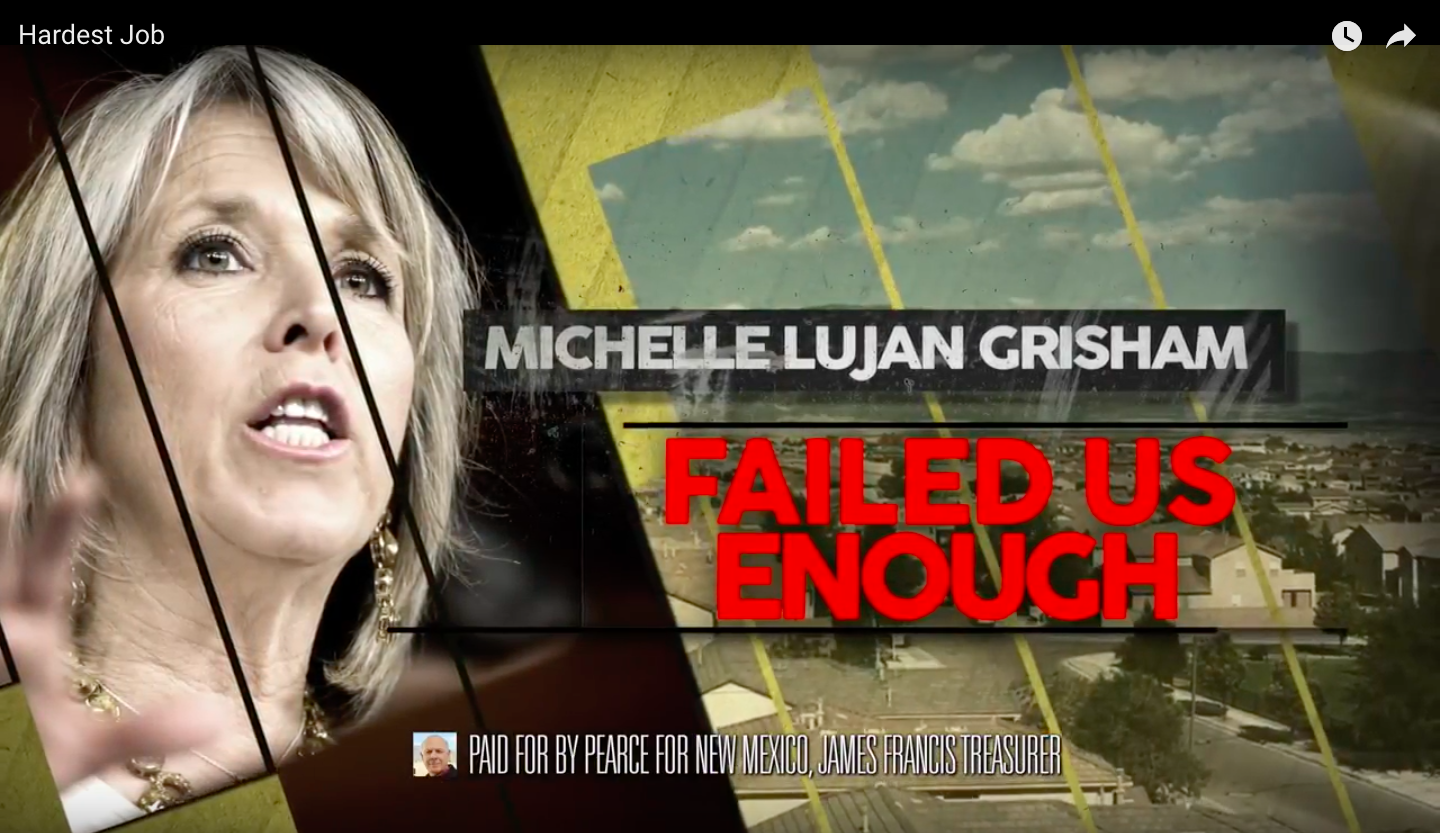 Messenger: Steve Pearce
Candidate: Michelle Lujan Grisham
Contest: Governor
Affiliation: D
Date delivered: Oct. 12, 2018
Message type: tv ad
Message tone: negative
About the message:
This is an attack ad by Steve Pearce against Lujan Grisham. It says that she complained about having the "hardest job on the planet" as Health Secretary, and says she has failed New Mexico. Lujan Grisham released a rebuttal via email.
The following is Steve Pearce's ad transcript with Lujan Grisham's rebuttal quoted point by point. New Mexico In Depth has not fact-checked either the transcript or the rebuttal.
Transcript: "She failed miserbaly, quitting in disgrace as health secretary, Grisham complained it was the hardest job on the planet."
Rebuttal: "FALSE: Steve Pearce misdates and misinterprets an article in the Albuquerque Journal. Nowhere is "failure," "miserably quitting," or "disgrace" mentioned in the article about her resignation, and a spokesman for the state said she "accomplished a lot" in the job. [Albuquerque Journal, 5/15/07]"
Transcript: "But Grisham's history of failure gets worse. She let a nursing home operate without a license, endangering patients and telling staff "don't create a paper trail."
Rebuttal: "FALSE: A later article debunked the claims Pearce cites: The Dallas regional administrator for the federal agency on aging, aware of the ombudsman's actions, said: "It appears that appropriate action sought by the ombudsman was achieved within a few days after the alleged act of interference and we are unable to find compelling evidence of other acts of interference." [Albuquerque Journal, 8/28/97]"
Transcript: "Why? The owner had political connections."
Rebuttal: "FALSE: Pearce makes up this ridiculous claim out of thin air. The "connections" cited in the article involve Michelle Lujan Grisham's husband, who did not own any nursing homes. The company he worked for did not have involvement in any case that the article cites. [Albuquerque Journal, 7/20/97]"
About the messenger:
Steve Pearce is a Vietnam Air Force veteran who served as a combat pilot. He owned and operated an oilfield service company. He's served in Congress from 2003-2009, and from 2011 since. He ran for U.S. Senate in 2008 and lost to Tom Udall.
As of Sept. 10, Steve Pearce had raised $3.9M. He had spent $2,038,328.97 and had $1,888,995.74 cash on hand.
Pearce's top donor is People for Pearce. People for Pearce is Pearce's political campaign committee from his time as representative for New Mexico's second congressional district. They have donated $917,050.32 to Pearce's campaign.
Pearce also has 63 donors who have given $11,000 each. These contributors include oil and gas companies, agricultural businesses, and many business owners.