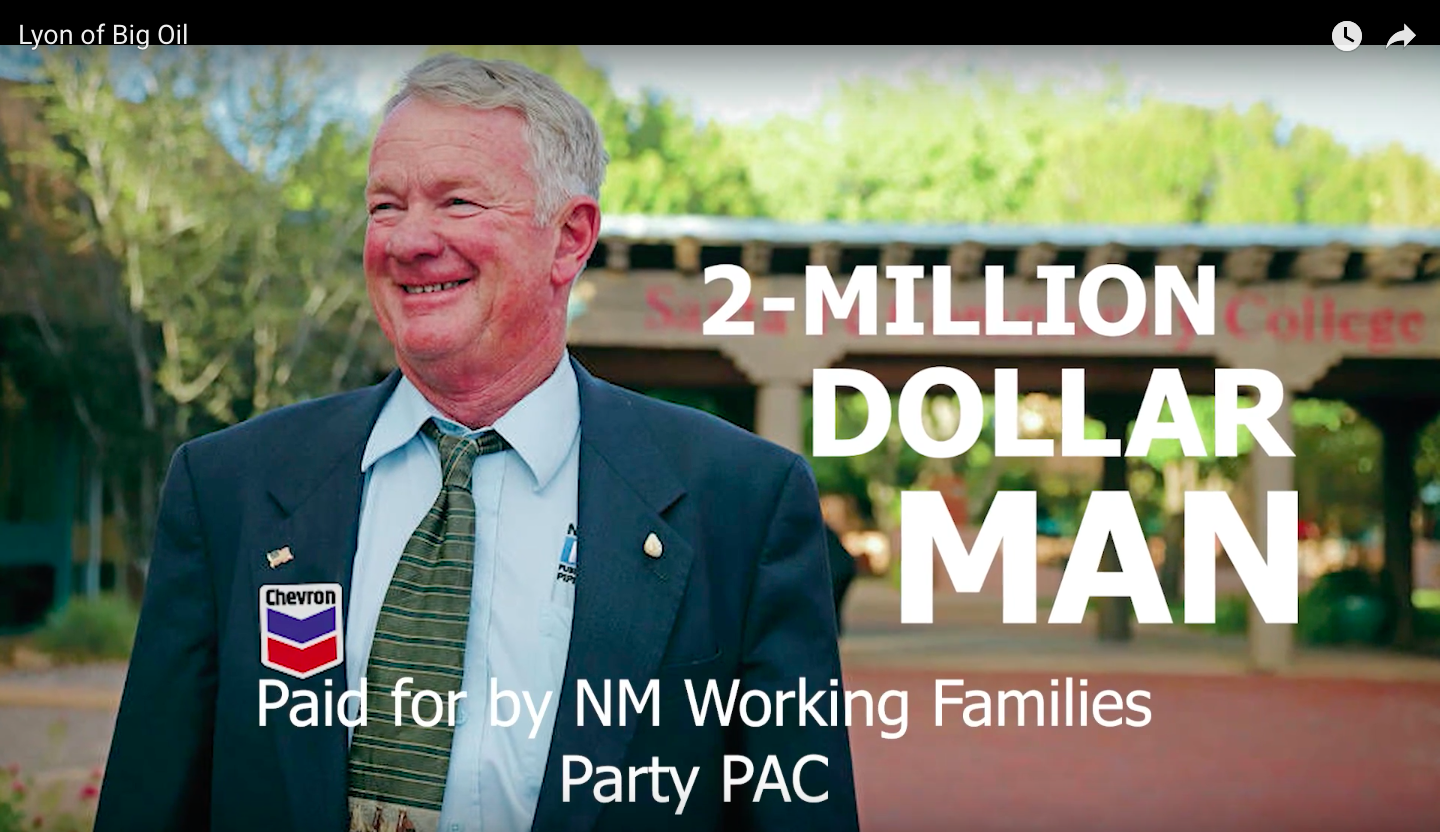 Messenger: NM Working Families Party PAC
Candidate: Patrick Lyons
Contest: Land Commissioner
Affiliation: R
Date delivered: Oct. 26, 2018
Message type: online ad
Message tone: negative
About the message:
This ad is against Patrick Lyons and for Stephanie Garcia Richard. It says that the oil and gas company Chevron has spent $2 million attacking Stephanie Garcia Richard and supporting Lyons. The ad calls Lyons "Chevron's 2 Million Dollar Man." It also says that Garcia Richard will stand up to big oil and gas and protect New Mexico.
The Albuquerque Journal recently reported that New Mexico Strong, a Texas-based political committee, received a $2 million contribution from Chevron. From that, $600,000 were spent on TV and online ads attacking Garcia Richard.
NM Working Families Party PAC has created a website with more information attacking Lyons.
About the messenger:
According to its website, "Working Families is a growing progressive political organization that fights for an economy that works for all of us, and a democracy in which every voice matters."
They are dedicated to electing officials who agree with their cause, through advertisements, phone calls, events, etc.
This group is labelled as "dark" because its top donors are non-profit organizations and other PACs for whom individual donor information is not available.
NM Working Families Party PAC's top donors are Wokring Families Party, Center for Civics Action and Enchantment PAC.
To view more information on this PAC's money and contributors, visit https://opennessproject.com/committees/nm-working-families-party-pac-570/.