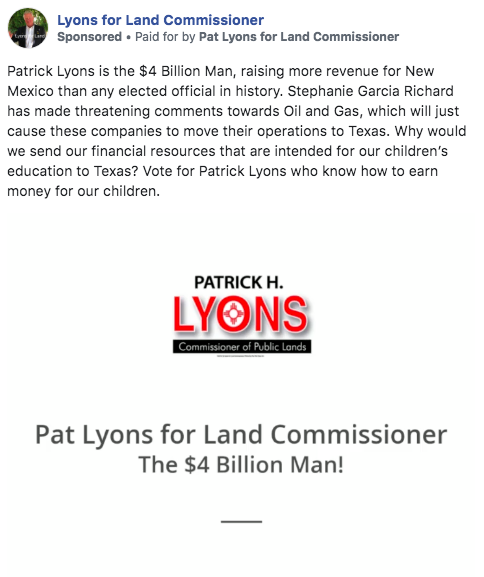 Messenger: Patrick Lyons
Candidate:
Contest: Commissioner of Public Lands
Affiliation:
Date delivered: Sept. 30, 2018
Message type: online ad
Message tone: contrast
About the message:
This video ad is running on Facebook. It starts by saying that Patrick Lyons' opponent, Stephanie Garcia Richard "wants our education money to go to Texas." It says that since Garcia Richard does not support big oil and gas, the oil and gas companies will take their business elsewhere, possibly Texas. Lyons thinks that money could be used for education.
The ad also says that Lyons raised $4 billion for education and beneficiaries. It is talking about his time as Commissioner of Public Lands from 2003-2010, in which he was able to generate $4 billion in revenue.
Less than $100 has been spent on this Facebook ad so far, and it has a traget audience of mostly men ages 25-34.
About the messenger:
Lyons is a third generation New Mexican. His career in politics began in 1992 and he has served as New Mexico Public Regulation Commissioner for District 2 since 2011. He is also the owner of Lyons Angus Ranch.
As of Sept. 10, Lyons had raised $265,200. He had spent $83, 391 and had $183, 568 cash on hand. The next filing date is Oct. 15.
Lyons' top donor is Mesilla Valley Transporation Services, LLC, from Las Cruces, NM, at $11,000.
Ray Westall, an oil and gas producer from Carlsbad, NM, is also a top donor, at $7,500.