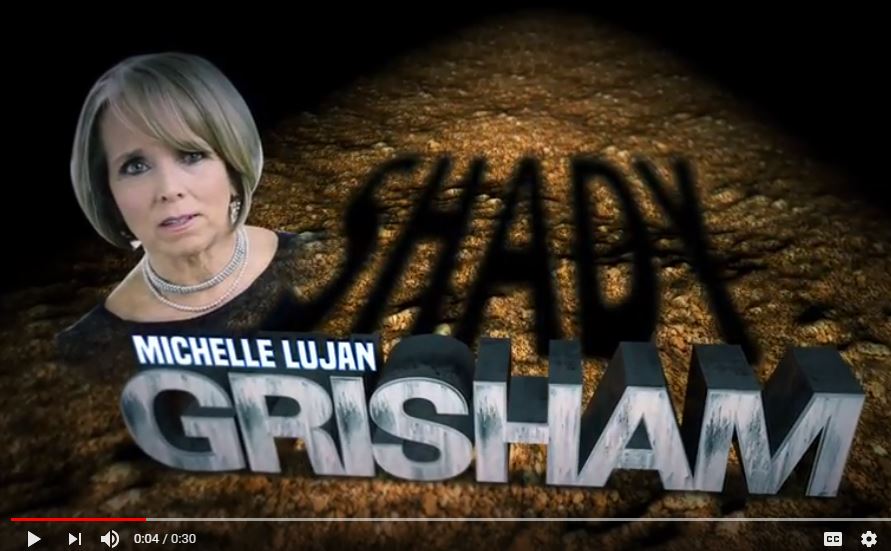 Messenger: Steve Pearce
Candidate: Michelle Lujan Grisham
Contest: Governor
Affiliation: D
Date delivered: Sept. 14, 2018
Message type: tv ad
Message tone: negative
About the message:
This is an attack ad by Steve Pearce against Michelle Lujan Grisham, released just before the Albuquerque Journal released result of their poll showing Lujan Grisham leading Pearce among likely voters. Lujan Grisham released a detailed rebuttal via email.
To follow is Steve Pearce's ad transcript with Lujan Grisham's rebuttal quoted point by point. New Mexico In Depth has not fact-checked either the transcript or the rebuttal.
Transcript: "Michelle Lujan Grisham. Exposed by news reports for shady self dealing. A pattern of corruption so deep leading Democrats called Grisham's greed morally repugnant."
Rebuttal: "FALSE: Pearce does not cite "leading democrats," but one Democrat, a former opponent who has never held elected office as multiple. The text comes from the webpage of one of Michelle Lujan Grisham's primary opponents. His suggestion that there are many leading Democrats is false."
Transcript: "Using her connections with the Richardson administration to land exclusive state insurance contracts."
Rebuttal:
"FALSE: Pearce cites accusation as evidence, full quote shows it was Lujan Grisham opponents accusing her of exerting influence: Full quote: "Michelle Lujan Grisham's rivals for the Democratic gubernatorial nomination intensified their criticism of her on Thursday, accusing her of profiting from ties to a company that has a state contract to help run New Mexico's high-risk insurance pool and exerting her political influence to keep the pool in operation."
"FALSE: Pearce uses article in which Superintendent of Insurance says there was "nothing inappropriate" about the contract. Full quote: "Delta Consulting has repeatedly won state contracts to help run the insurance pool and state Superintendent of Insurance John Franchini has said there was nothing inappropriate about how the contracts were awarded."
"FALSE: There are no "exclusive contracts." In a competitive bid process Delta Consulting Group Was "Awarded The Executive Services Contract For The Pool And Handles The Day-To-Day Operations." According to the New Mexico Medical Insurance Pool, "The Delta Consulting Group Inc. was awarded the Executive Services contract for the Pool and handles the day-to-day operations. Established in 2008, Delta Consulting Group Inc. (Delta) is a local management consulting firm specializing in management services for nonprofit organizations and professional associations." [New Mexico Medical Insurance Pool, accessed 5/15/18]"
Transcript: "Delta Consulting Group raked in millions, overcharging vulnerable New Mexicans, fleecing poor patients with higher premiums."
Rebuttal:
"FALSE: The ad accuses Delta of overcharging when rates are set by the pool and its board of directors, not Delta Consulting. New Mexico Statute: "The pool shall determine a standard risk rate" Meeting minutes show the board's approval of rates.
"FALSE: Poor patients are not "fleeced." Patients below 400% of the poverty line have access to lower premiums. New Mexico Statute states that "the board shall adopt a low-income premium schedule that provides coverage at lower rates for those persons with an income less than four hundred percent of the current federal poverty level guidelines," and patients below 200% of the poverty level are eligible for monthly rates as low as $37. "Legislation to eliminate the pool would have raised New Mexicans' insurance costs. OSI Analysis found: "The magnitude of this premium increase would likely cause premiums for a single individual to increase hundreds of dollars a year."
Transcript: "Now Grisham's top cronies caught red-handed trying to bury evidence. Dishonest and dirty, shamelessly corrupt."
Rebuttal: "FALSE: Pearce accused Delta of trying to bury evidence. The pool has posted 11 years of financial audits on its website. The suit was brought by the Medical Insurance Pool, a non-profit entity to clarify the law, not hide records: The NM Medical Insurance Pool has sought guidance from the courts to determine whether the Pool falls under the State Audit Act and other relevant state laws. The Pool has already posted 11 years of complete financial audits on its website in order to achieve transparency. Pool financial records are been open and available."
About the messenger:
Steve Pearce is a Vietnam Air Force veteran who served as a combat pilot. He owned and operated an oilfield service company. He's served in Congress from 2003-2009, and from 2011 since. He ran for U.S. Senate in 2008 and lost to Tom Udall.
As of Sept. 10, Steve Pearce had raised $3.9M. He had spent $2,038,328.97 and had $1,888,995.74 cash on hand.
Pearce's top donor is People for Pearce. People for Pearce is Pearce's political campaign committee from his time as representative for New Mexico's second congressional district. They have donated $917,050.32 to Pearce's campaign.
Pearce also has 63 donors who have given $11,000 each. These contributors include oil and gas companies, agricultural businesses, and many business owners.