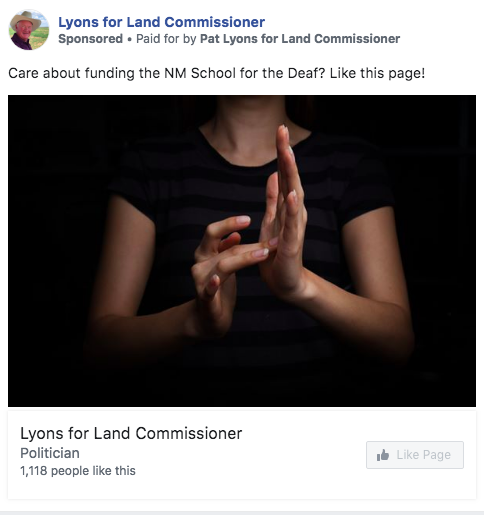 Messenger: Patrick Lyons
Candidate: Patrick Lyons
Contest: Commissioner of Public Lands
Affiliation: R
Date delivered: Aug. 31, 2018
Message type: online ad
Message tone: positive
About the message:
This Facebook ad's purpose is to direct people to "like" the Lyons for Lands Commissioner Facebook page. It states that Lyons supports funding for the NM School for the deaf.
This ad is reaching mostly women ages 65 and older, but it is also reaching many men and women ages 35-64.
About the messenger:
Lyons is a third generation New Mexican. His career in politics began in 1992 and he has served as New Mexico Public Regulation Commissioner for District 2 since 2011. He is also the owner of Lyons Angus Ranch.
As of Sept. 10, Lyons had raised $265,200. He had spent $83, 391 and had $183, 568 cash on hand. The next filing date is Oct. 15.
Lyons' top donor is Mesilla Valley Transporation Services, LLC, from Las Cruces, NM, at $11,000.
Ray Westall, an oil and gas producer from Carlsbad, NM, is also a top donor, at $7,500.