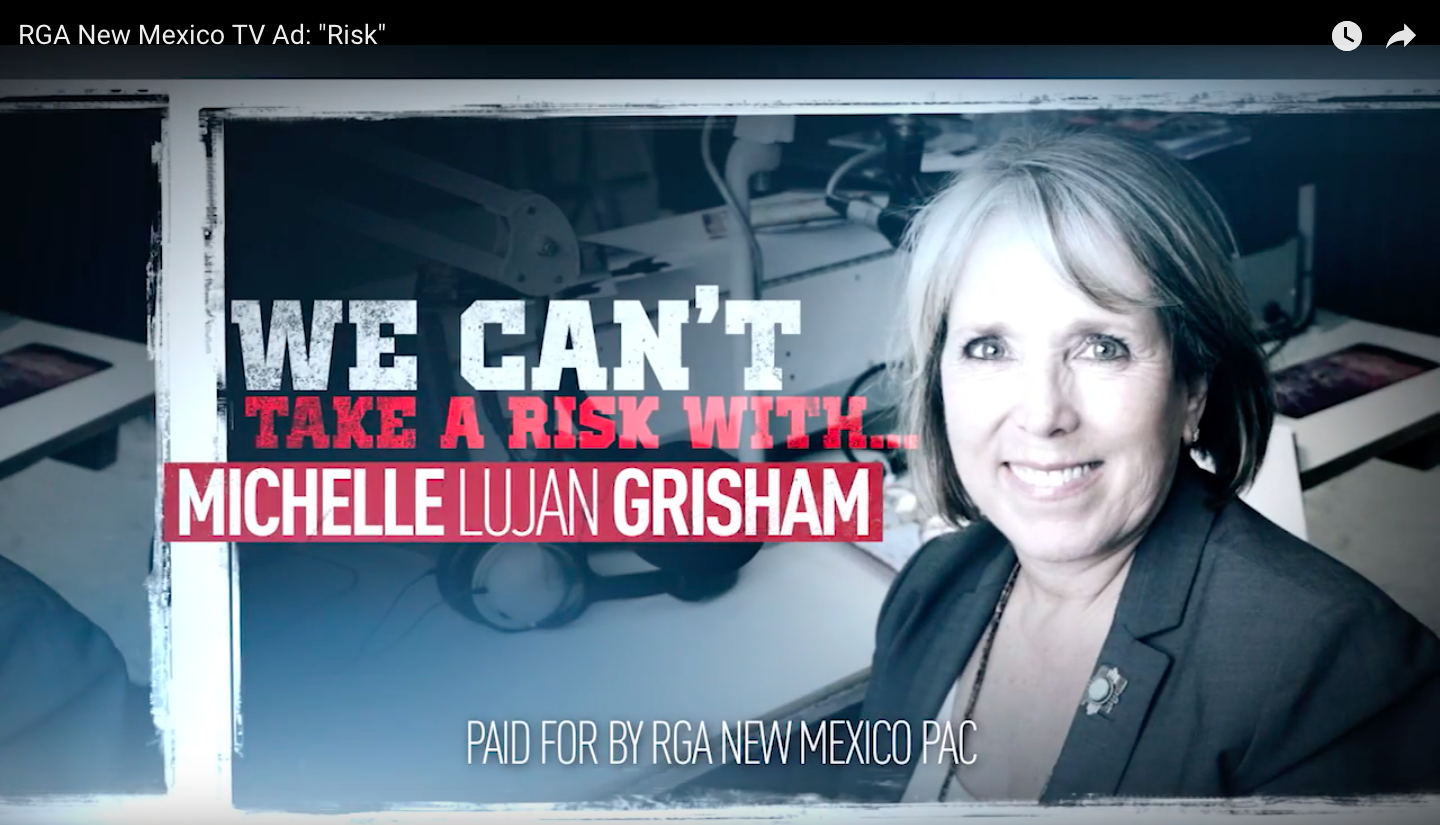 Messenger: RGA New Mexico
Candidate: Michelle Lujan Grisham
Contest: Governor
Affiliation: D
Date delivered: Oct. 17, 2018
Message type: tv ad
Message tone: negative
About the message:
This is an attack ad against Michelle Lujan Grisham by the RGA New Mexico PAC. The ad describes Lujan Grisham as a political insider that will bring scandal to New Mexico, due to her time working under Bill RIchardson.
The following is RGA New Mexico's ad transcript with Lujan Grisham's rebuttal quoted point by point. New Mexico In Depth has not fact-checked either the transcript or the rebuttal.
Transcript: "Bill Richardson crony Michelle Lujan Grisham."
Rebuttal: FALSE: Michelle Lujan Grisham served in state government for 18 years under three governors, both Democratic and Republican. Richardson was the last of these.
Transcript: "After she stepped down from Richardson's scandal-tainted administration, Grisham's company got a lucrative state contract, a contract that paid millions."
Rebuttal: FALSE: Michelle Lujan Grisham's former company, Delta Consulting group, received a contract from the New Mexico Medical Insurance pool, a nonprofit entity. "The Pool is a non-profit program that offers health care policies to eligible residents of New Mexico who are denied coverage in the private or public markets as well as individuals eligible under the federal Health Insurance Portability and Accountability Act of 1996 (HIPAA)." [NMMIP.org, accessed 10/12/18]
The Superintendent of Insurance who was appointed under the Martinez administration said "there was nothing inappropriate about how the contracts were awarded." [Albuquerque Journal, 5/31/18]
Transcript: "Then Lujan Grisham understated her full payout. Lujan Grisham cashed in while seriously ill patients paid more for their health insurance."
Rebuttal: FALSE: The pool offers reduced rates for anyone with income below 400% of the poverty level. New Mexico Statute states that "the board shall adopt a low-income premium schedule that provides coverage at lower rates for those persons with an income less than four hundred percent of the current federal poverty level guidelines," and patients below 200% of the poverty level are eligible for monthly rates as low as $37.
And rates are set by the pool and its board of directors, not Delta Consulting. New Mexico Statute: "The pool shall determine a standard risk rate" Meeting minutes show the board's approval of rates.
About the messenger:
THe Republican Governors Association is dedicated to supporting Republican governors.