---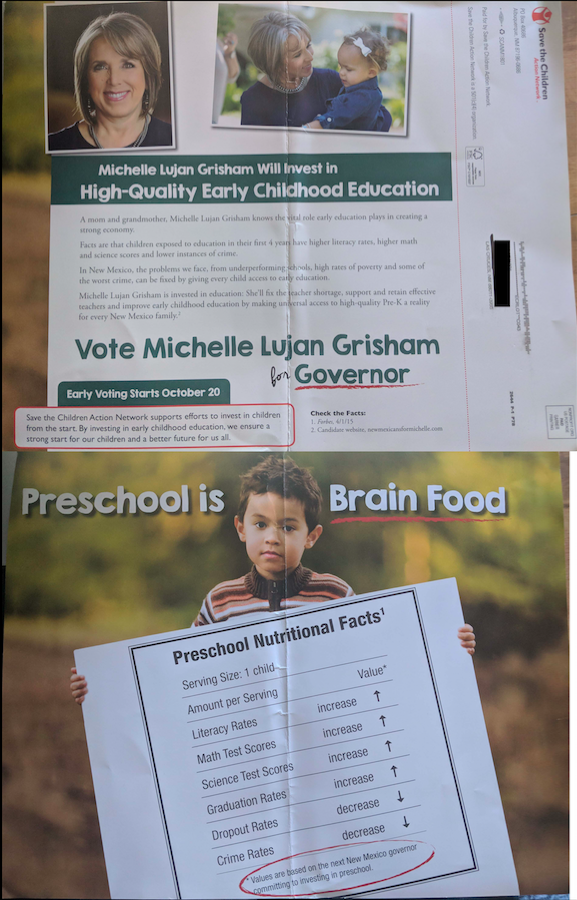 Messenger: Save the Children Action Network
Candidate: Michelle Lujan Grisham
Contest: Governor
Affiliation: D
Date delivered: Oct. 24, 2018
Message type: mailer
Message tone: positive
About the message:
This mailer talks about early childhood education and says that Michelle Lujan Grisham will invest in it. It says that children who are exposed to education in their first four years have "higher literacy rates, higher math and science scores, and lower instances of crime."
The back side of the mailer says "Preschool is Brain Food" and shows a child holding up "preschool nutritional facts" that state the benefits of preschool.
About the messenger:
Save the Children Action Network (SCAN) was founded in 2014. According to its website, they fight to build "bipartisan political will to ensure all children in the U.S. have access to high-quality early childhood education and that moms and kids around the world do not die from preventable causes."
The Open Secrets website reports that they have spent $30,000 on lobbying activities.