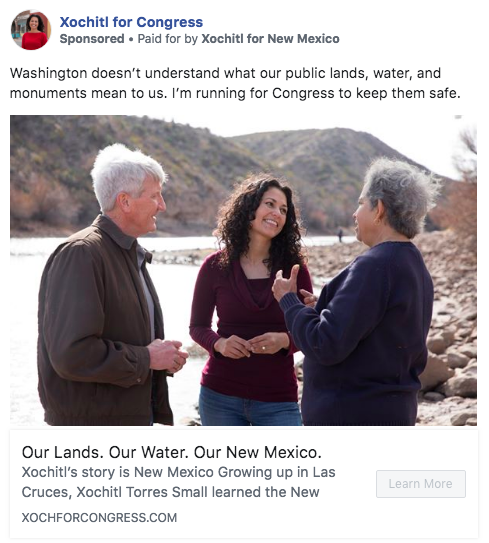 Messenger: Xochitl Torres Small
Candidate: Xochitl Torres Small
Contest: Congress
Affiliation: D
Date delivered: Sept. 17, 2018
Message type: online ad
Message tone: positive
About the message:
This ad is being run on Facebook through Xochitl for Congress' Facebook page. There are four of the same ad running at the same time, but each with a specific audience. In this ad, Torres Small says she will protect New Mexico's public lands and water.
The first ad was posted on Sept. 17 and is targeting mostly young men from the ages of 18-34. Some young women were reached, but not as much as the men. Men from ages 18-34 made up 43% of the audiece reached.
The second ad was posted Sept. 17 and targeted only women. 32% of the women reached were ages 18-24, 24% were ages 15-34, and 20% were ages 35-44.
The third ad was posted Sept. 20 and also targeted only women, however, most of the women reached (45%) were from the ages of 18-24.
The fourth ad was posted Sept. 20. It targeted mostly men, and reached a small percentage of women. 62% of the audience reached was men from the ages of 18-34.
The budget for each of the ads was $100-$499. Once the ad stops running, Facebook will charge an amount within that budget, depending on how many people are reached. All of the ads have a goal of reaching 10K-50K people, except for the one that has been reaching mostly young women (the third ad), which has a goal of reaching 50K-100K people.
About the messenger:
Xochitl Torres Small was raised in Las Cruces, New Mexico. Her background includes working as a field representative for Senator Tom Udall and as a judicial law clerk for federal judge Robert C. Brack. She currently works as an attorney at Kemp Smith LLP, specializing in water.
As of June, 30, 2018, Torres Small has raised $934,714.79. Her top donor is Bay State for a Majority at $29,000.