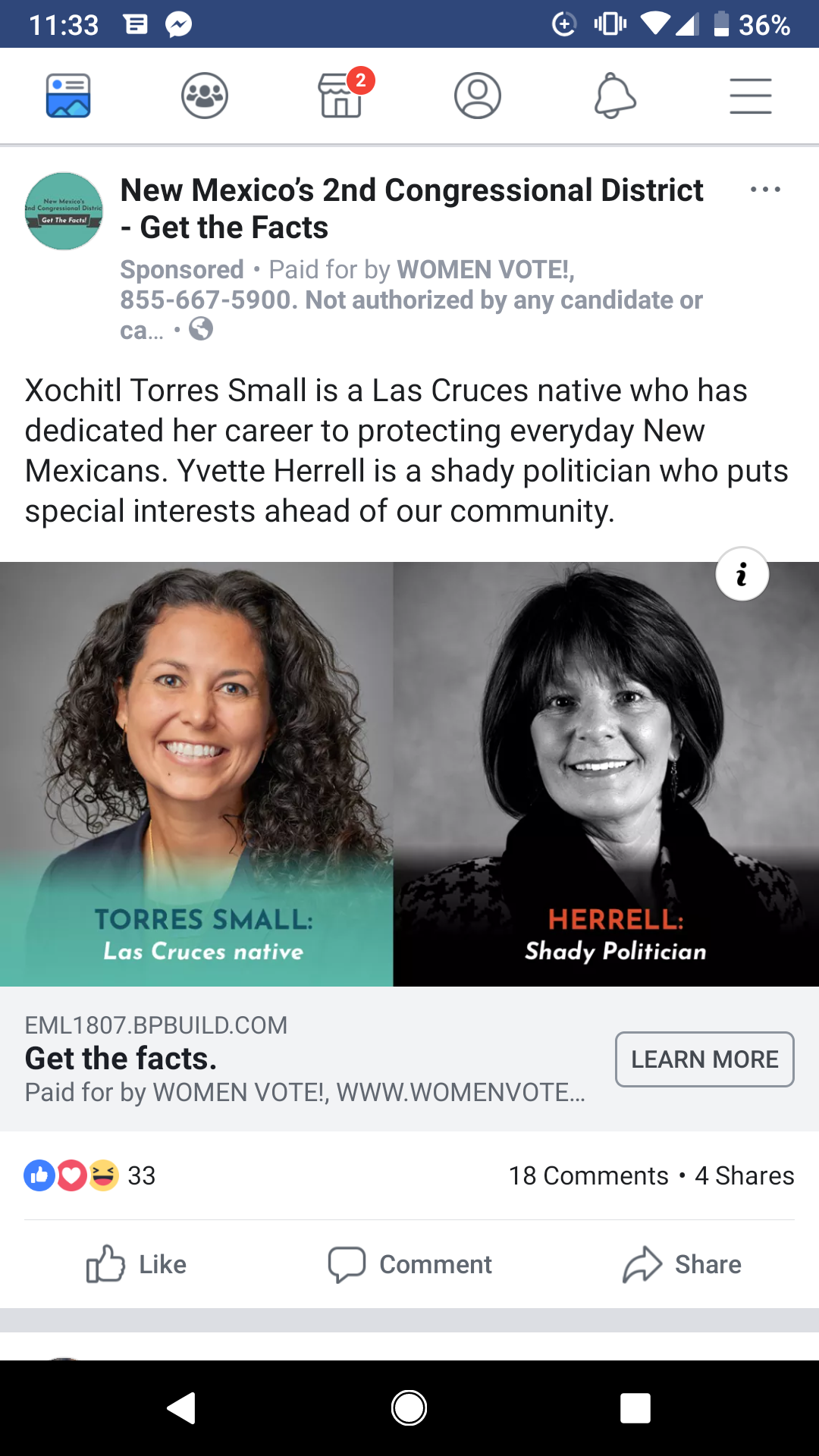 Messenger: WOMEN VOTE!
Candidate: Xochitl Torres Small
Contest: Congress
Affiliation: D
Date delivered: Oct. 23, 2018
Message type: online ad
Message tone: contrast
About the message:
This Facebook ad is comparing the two candidates for New Mexico's second congressional district. It says that Xochitl Torres Small fights for New Mexico, while Yvette Herrell fights for special interests. It says that "New Mexico can't trust Yvette Herrell." If the viewer clicks on the "learn more" icon, it leads them to a "Get the Facts" website which compares the two candidates, and is in favor of Torres Small.
There are three posts running of the same message. One of the posts has a budget of $100-$499, and the other two have a budget of less than $100. Once the ad stops running, Facebook will charge WOMEN VOTE! depending on how many people were reached. The ad has a target of reaching women of all ages, although it is only reaching 2% or less of women ages 55-64.
About the messenger:
WOMEN VOTE! was founded in 1995 by EMILY's List, an organization that supports pro-choice Democratic women. WOMEN VOTE! works to persuade women voters to go out and vote for pro-choice Democratic women.
WOMEN VOTE!'s top donors are the banking company Merrill Lynch, with $5, 402,626.92, Karla Jurveston, physician and wife of American businessman and venture capitalist Steve Jurveston, with $5,402,259.50, and American financier and philanthropist Donald Sussman with $2 million.