---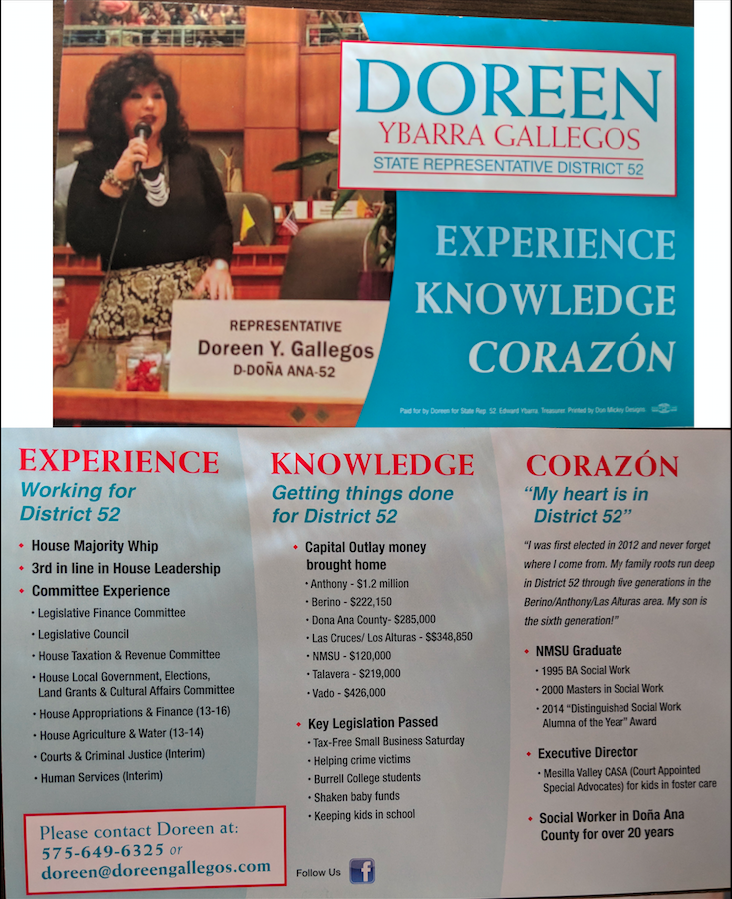 Messenger: Doreen Ybarra Gallegos
Candidate: Doreen Ybarra Gallegos
Contest: State Representative
Affiliation: D
Date delivered: Oct. 17, 2018
Message type: print ad
Message tone: positive
About the message:
This ad says that Ybarra Gallegos should be State Representative for District 52 because she has experience, knowledge and corazón (heart). The back side of the ad gives details about these three qualitites.
About the messenger:
Doreen Ybarra Gallegos has served as State Representative for District 52 since 2013. Other professional experience includes working as the executive director of Mesilla Valley CASA.
As of Sept. 7, Ybarra Gallegos had raised $57,400. She had spent $36,618.18 and had no cash on hand.
Her campaign money is labelled as "dark" because most of her donors are national non-profits or PACs for whom donor information is not available. Some of her top donors are Bowlin Travel Centers, Inc. with $5,000 Comancheria LLC with $4,100 and Planned Parenthood Votes NM Coordinated Committee with $3,860.